My dear friend, Lisa, has lived in London for many, many years and returns to the area four times a year to visit her father. I don't have to ask anymore, enroute from the Philadelphia International Airport, if she'd like to stop for groceries for her dad—it's just routine now. Our pit stop? Kimberton Whole Foods.
I first heard about KWF a few years ago, after we'd moved to the area. An actress-colleague of mine came to work and told me she'd discovered this wondrous grocery. I stopped in and found the selection and quality unbelievable; exclusively organic produce (local, when possible), a variety of natural and organic groceries, and an amazing selection of body care. I'm not the only one moved by KWF; the Pennsylvania Association for Sustainable Agriculture acknowledges their vision as well. See www.pasafarming.org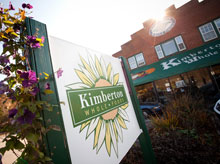 Lisa loves KWF and I love stopping to shop there! Established in 1986, KWF has grown to become the largest independent natural foods retailer in eastern Pennsylvania.
Please visit their website www.kimbertonwholefoods.com and be sure to subscribe to their newsletter!