I took the kids to an antique tractor show at the fairgrounds last month. The air was filled with the spits and sputters and little puffs of smoke from hit-and-miss engines. Crowds gathering and dispersing among the many historical displays.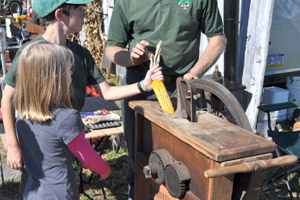 As we strolled past a corn sheller, the gentleman operating it pointed to Nathaniel and said, "Young man, your mom wants to make corn bread!!"  Nathaniel looked up, quizzingly, as the man repeated, "she needs your help—go on out and gather a bushel of corn."
He reached down and pulled up a handful of ears and handed them to Natalie. "Shell 'em," he directed.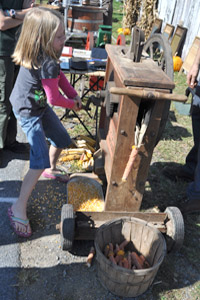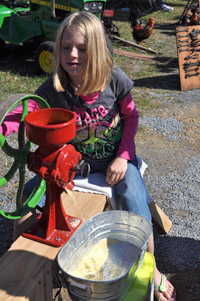 You can imagine they were both smiling by now as Natalie cranked the wheel and Nathaniel added the corn. Once the mill chewed the kernels off, they began spilling out the chute.
"You're not done yet!  Mom can't make cornbread out of this!  You need to mill it—grind it up!"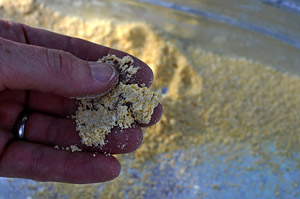 So they gathered the kernels and put them down the mill chute and began to crank. The bowl caught the light, yellow, cracked and milled corn.
"Good job," he said, "now take this in to mom. She's in the kitchen waiting for it!"
We thanked him for such an interesting and fun demonstration. Other children had now gathered to give it a go and we slowly made our way to the next display.
I glanced back as I remembered shelling corn with my grandfather to give to the wild geese that gathered on his pond every year around this time making their way south. I loved that corn sheller.