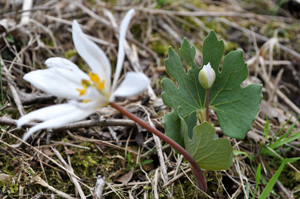 Beautiful Bloodroot is a woodlands flower that blooms, for us in Pennsylvania, during the first or second week in April. Large, lovely palm-sized leaves envelop a single white flower—the bloom lasting a mere week or so. Once the petals have fallen, the lush, green foliage heartily remains through the warm months.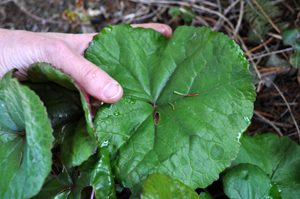 Before I go any further, let me mention: Bloodroot is TOXIC. Do not consume any part of the bloodroot plant.
Certainly, a name like "Bloodroot" deserves a little research, don't you think? 
It's not surprising the name refers to its orange-red root. Stems will "bleed" this color when broken and Native Americans used the juice for everything from face and body paint (which lasted for days) to dye.
Root teas were fashioned to combat asthma, laryngitis, coughs, etc. Topically, Bloodroot poultices were used to treat eczema, warts, and skin cancer—its "active ingredient" is sanguinarine.
According to the ACS Chemistry for Life website, "Sanguinarine is an antimicrobial used in mouthwashes and toothpaste to guard against inflammation brought on by gingivitis. It has also been found to protect against skin cancer by enhancing the production of proteins that induce the death of cells damaged by UV-B radiation."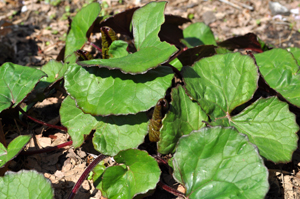 There is so much information online about this unique, singular, almost "reclusive" woodlands plant!
I hope you are lucky enough to be able to observe it in the wild (it's protected in many states so please abide by this when observing Bloodroot in its natural habitat).