Brownie (named for her caramel color) is one of our most affectionate, sweet, and lovable ewes. She had a single lamb last year—a little brown girl, Friday. She twinned this year: the first, a little brown girl and the second a little white boy.
One of the first signs you look for in newborns, once they're on their feet (which is normally minutes after being cleaned by their moms) is whether they've latched on to mom's udder. The first pulls provide the colostrum from momma which is essential to getting baby off to a healthy start. Imagine our surprise when Brownie would not let either baby latch on, especially the little white ram-lamb. It's absolutely heartbreaking to watch a wobbly little newborn attempt to bond and the mom keeps inching away or turning from the baby.
Some say rejection can be rooted in the baby's color. I don't know if it was the case here but I'm suspecting it might play a part in her rejecting the little white ram-lamb. Brownie nuzzles him and will answer him…sometimes (other moms will call out immediately to newborns) but her attitude just seems different with the little brown girl.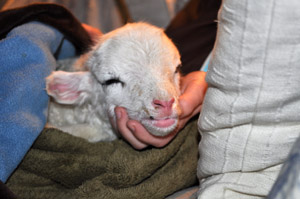 Yesterday, we brought him in the house. He appeared so weak and thin and cold all of a sudden; it's amazing how quickly they can slide downhill.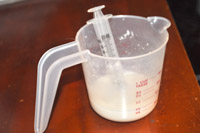 We placed him in a towel, under a heating blanket on "high" and held him for hours while giving him Purina's "Kid Milk Replacer" with a syringe. It is a powder formula you mix with hot water– specifically for livestock babies.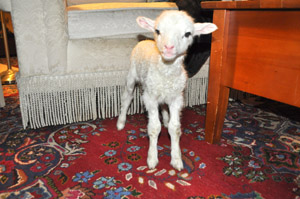 After five hours inside, offering replacer and warm water, he appeared a little more energetic so we took him back out to momma's stall. She seemed genuinely happy to see him. Nevertheless, we'll keep a watchful eye on him, keep the replacer coming at prescribed intervals (he drank a full "dose" this morning!) and, of course, bring him to cuddle on the couch….often.