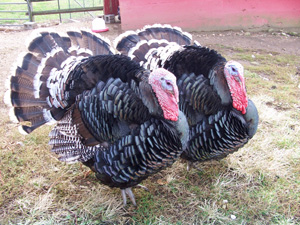 Turkeys have been, by far, the biggest surprise for me. I think I knew what to expect when we began raising the sheep—that they'd be, well, "sheepish." The goats, frequently portrayed in cartoons eating tin cans, will nibble at just about anything. And chickens?  Well, they just act chicken-like.
But the turkeys? They watch EVERYTHING you do and EVERYTHING that goes on in the barnyard. As young adults,  they begin to rely on a precise feeding regimen and know exactly when and where the next feeding should occur.
Our flock is especially sensitive to the sound of heavy truck transmissions and will gobble, in unison, as one approaches. I think they think the school bus is some large yellow bird. Although we can't see the bus when it's about a half mile away and approaching, the turkeys begin to gobble and it's my cue to call the kids. "I hear the turkeys…the bus is coming!"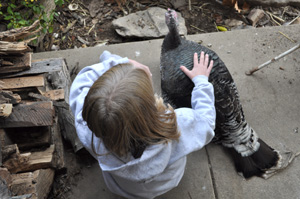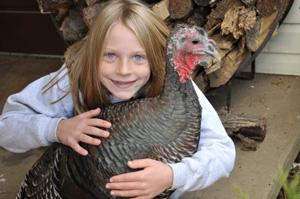 The other morning took the cake. Usually, they will wait on the porch for someone to make their way to the barn for their feeding. I had changed the screen door for the storm door the day before and as I sat at the computer a few feet away, I heard a singular "tap" on the storm door. Then it came again. I waited. There it was again. I went to check it out thinking it was someone's knock. It was. I opened the door to see the three gobblers, having pecked at the plexiglass, standing on the doormat as if to say, "we're ready for our corn now." I laughed out loud—very loud—which started a gobbling reaction from them.
You can only imagine my excitement in visiting Koch's Turkey Farm and seeing all of those turkeys! Many, many thanks to Duane and the Koch family for a fun visit!