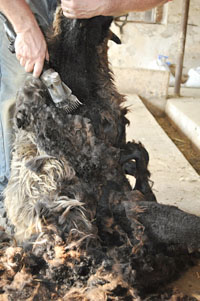 Navajo-Churro sheep need to be shorn twice a year. Their wool grows an inch a month.
Typically, we'll have the shearer come in September and March (or thereabouts). The shearing happens before they're bred and then again after the lambs arrive. The timing is good in that it cleans the mamas from the lambing and gets them ready for the warmer months.
Our shearer has been doing this his entire life. It's something I wouldn't mind trying but it's such a delicate job, and I love my flock so much, that I'd rather a professional be at the helm of this task.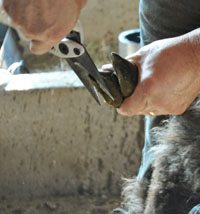 He'll trim the hooves, de-worm (if we wish) – which just means he administers a "drench," that is a liquid – and shear.
His technique is one that many spinners like because he doesn't take "second cuts." He takes one long pass along the sheep instead of going back to cut again (resulting in smaller "bits" of wool left in the fleece).
Another good thing about having him do the shearing is that he's an "outsider" to our flock – he's a valuable objective observer as to the overall health and well-being of everyone.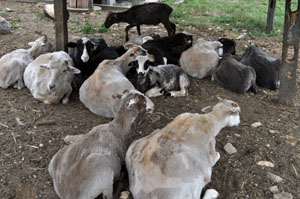 Sheep almost look like different animals after a shearing. It just has to feel good to have that "haircut" every six months or so –  just look at how relaxed they all looked that next morning.