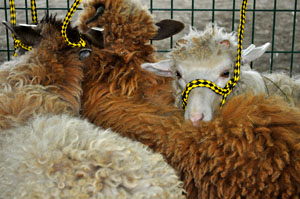 Rebecca Gunther, of Jersey West Farm had been e-mailing me weeks ahead of the Garden State Sheep Festival to, well, beg me to show some of my Navajo-Churro. (That Sunday, there was to be a Navajo-Churro competition and the judge would be none other than Ingrid Painter—decades-long breeder and N-C gal extraordinaire.) Was she kidding???  Me??  Show a sheep??  And in front of Ingrid Painter?  NO WAY. I had been curious for years about exhibiting an animal in the show ring—but was just too ignorant to attempt it. After all, where would I start?
I'd start at Rebecca's-that's where! Thankfully, she agreed to share her hard-won expertise and a "show" webisode was born! In Webisode 2 we address what to do if you have a sheep that has not been trained or isn't acting "agreeable" on show day. Before the cameras rolled on Oneida (the beautiful white ewe-lamb) I saw her jump about 3 feet, vertically and directly next to Rebecca. My only thought was thank goodness I didn't have her at that point because I doubt I would've had a secure-enough handle to prevent a sore jaw—my OWN.
Two days later, we were at the Garden State Sheep and Fiber Festival. Rebecca brought over 10 N-C sheep to show and had a few friends there to help in the ring. I told her I'd be happy to volunteer but that she shouldn't expect much from me. You should have seen my face when she handed me Oneida's lead.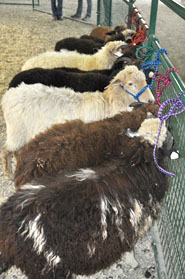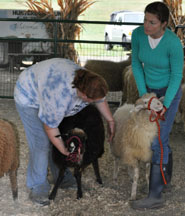 I was bound and determined NOT to let Oneida show ME up in the ring (after all, Ingrid was there!) so I kept her at my side with no slack in the lead and a hand firmly on the back of her neck and another cupping her jaw. Imagine my dismay, after Ingrid's first few passes, when she asked me to move to one end of the line with Oneida. I had watched a few judgings before this and knew that the end where she was moving me was not where the winners had been repositioned. I probably had "rookie" stamped on my forehead!  As beautiful and deserving as Oneida was, I was convinced I had done something as a handler to disqualify us. I was pretty sad.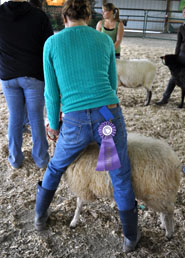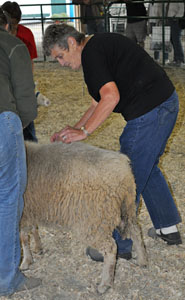 Not only was this rookie wrong about the line-up, Oneida captured a blue-ribbon for her class and we went on to grab the Grand Reserve ribbon!!  I couldn't believe it!  Well, it wasn't "we" after all. Oneida is a one-of-a-kind Navajo-Churro and Ingrid validated that. However, I'd like to think my grip on that little girl that day ushered our chances right along in the ring.
Many thanks to Rebecca for all the tips. I'm looking forward to next year's show when I can bring along some of my flock!