Let's do a little math. We ordered a quarter-pound packet of Waltham butternut seeds, knowing that would more than cover us for planting in the spring (we had some seed left from last year) and ended up planting only half that amount. The packet was $8.95.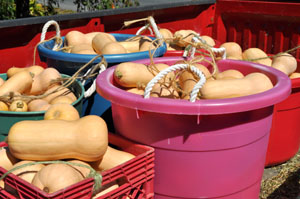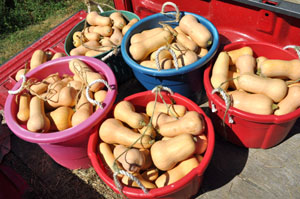 We are in the midst of harvesting the butternuts now. This load is the first picking and represents about 500 pounds. Altogether? We'll get about 1500 pounds of butternut squash out of the less-than-half packet of seed that was planted.
The Waltham variety is an extremely popular variety — not only with us but with the pollinators. (Remember the blog entry about the bees buzzing in the blossoms?) Its flavor is delicious, it keeps well (we'll store ours through the winter in our basement, which stays cool and dry), and the plants are consistent and reliable.
So, it's inexpensive + proven + tasty + reliable + bountiful = A winner!