This week was special for us; we hosted a "ram swap"!
Our dear friend, Linda Cummings (http://guitner.blogspot.com/) from whom we purchased our first Navajo-Churro ewe and ewe-lambs came to our place to meet Shelly Gaines, a breeder from New York. They were to exchange ram-lambs (these li'l guys were born this past Spring). The swap occurred at our place—sort of a halfway point.
Now, these gals are pretty savvy when it comes to the breed. I sure learned a lot from them, such as: "clean" legs, face and belly are desirable (not "wooly"). And as much as we all love the four horns the Churro can possess, ready yourself for some bloody heads when they, inevitably, square off. Of course, the fleeces are truly important too; many breeders are picky…and rightfully so. When it comes time to market your wool, spinners seek out the best. It pays to begin to concern yourself with many of these traits at breeding time.
After the necessary paperwork was exchanged,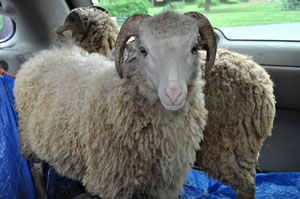 "Ottawa", the stunning white ram-lamb went home with Shelly to New York and handsome little "Newman" made the trek back to Linda's Shepherd's Loft in Pennsylvania.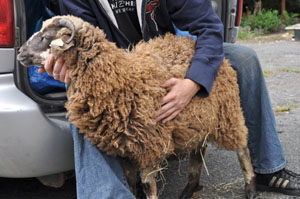 We'll have to keep those guys in mind for the future (wink)…