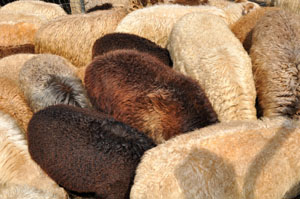 The Navajo-Churro wool is beautiful! Just look at the colors of the sheep I was able to photograph before everyone came charging into the barn last week. I've been fascinated by their coats since we first purchased Reese and her twins, Lovey and Clara (Clara Barton Angel Of The Battlefield, so named by my history-loving son) years ago.
Attending sheep and wool festivals is always a treat because you get to see how spinners are using the wool and wool blends. I couldn't wait to visit Loch's Fiber Mill to "fill in the blanks"—I see the wool when it's fallen from the sheep after shearing and I've seen the finished product in skeins, ready for knitting or weaving, but didn't know exactly what went in to processing wool.
The morning we spent at the fiber mill was fascinating and informative….so much so that we couldn't do just one quick segment—we had to break it down into parts! Jamie and Randy were so hospitable they invited us back to their maple syrup festival next year.
For more information, visit www.lochsmaple.com/fibermill/index.html