When I began canning, years ago, I was amazed to find preserving fruits and veggies wasn't just "pickles and jellies." In the years since then, I've collected and used many recipes stretching from marmalades to desserts!
The conserve is so versatile, one can use it as a spread on your toast in the morning or a topping on your cheesecake after dinner (or, like I prefer, with a little chevre).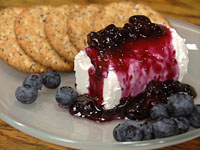 There are usually a few different flavors "going on" in the jar, regardless of the fruit you've used for the conserve.
The deep blue of the blueberry doesn't allow us to see the lemon and orange rings that are part of the recipe – which is a shame because that makes for a lovely presentation. I'll get over that though….I have to; there's only one jar left!