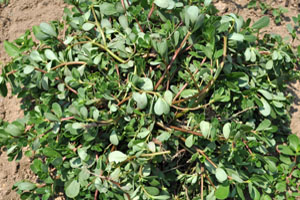 I didn't always know Purslane, mind you. We met after I married.
David was away on a flight assignment with the National Guard (mid-July, as I recall) and I was left tending our veggie garden for a few days. This was my first summer doing this– I was on maternity leave from flying and halfway through my pregnancy.
I thought it'd be great to show David, upon his return, how I tidied up the garden…and proceeded to weed every row. The work was tedious (as weeding usually is) and my protruding belly and the hot summer weather made for an uncomfortable experience. I pushed through, though, and ended up with mounds and mounds of this succulent "weed" which, to my great surprise was very easy to pull, thanks to a recent rain. It was really productive work—it almost looked as though I'd taken a vacuum cleaner between the rows and cleaned the paths!
David was amazed at my handiwork and surprised me with an early birthday dinner at a restaurant in Madison, Wisconsin known for serving only local and seasonal fare (a rarity 11 years ago). Imagine my surprise when the salad course came and there, alone on the little china plate, was a heaping helping of….purslane. I remember looking up at him, quizzically, and saying "Are they kidding??" Nope. Not kidding.
Our Pennsylvania neighbors always ask for a bowl of purslane from the garden. They've been eating it for years. I'm always happy to oblige; the supply is endless. Me? I'm happy to stick with the mesclun mix we plant. But I recall that trip to the Wisconsin restaurant every year about this time—when it's time to "tidy up" the rows.